Brookside has a dynamic team of people who serve to make a number of the daily operations of our church possible. Some of them are full-time, some only part-time, but their heart for people is what we love every time. Feel free to reach out to anyone you see below, and if they don't have what you are looking for, they probably know who to ask.
Lead Teaching Pastor/Elder
Pastor Steve joined Brookside's staff as the Care Pastor in January of 2015. While Steve has just recently joined the pastoral team, he has been involved with Brookside since its creation, serving in multiple roles including as an Elder. In addition to serving Brookside part-time, Steve also serves with CRU part-time, a ministry he has been on staff with since 1999. Steve holds an undergraduate degree from Ohio University and in 2014 received his Masters of Arts and Clinical Counseling from Ashland Theological Seminary. Steve and his wife Sandy were married in 1997 and have three children (Narnia, Danny, and Jack).
Director of Outward Movement
Amy graduated from BGSU in 2001 and married her college sweetheart, Rob, one week later. Amy worked in the college ministry of Cru from 2003 to 2015, serving 8 of those years as team leader. Since 2003, she has regularly blessed the Cru staff, students, and BGSU Greek life with her exceptional speaking, teaching, leading, and mentoring abilities. In June of 2015, Amy brought her experience to the Brookside staff team as Director of Outward Movement. Amy loves anything athletic and competitive (especially tennis and spikeball) and in her words, she "really tries to believe that winning isn't everything. But, that's hard." Amy also enjoys creating, decorating, and helping others make beautiful spaces. Amy and Rob have three amazing kids ranging from 4 to 11 years old.
Director of Communications/Pastor in Residence
Ricky ambled into Brookside in the fall of 2008 and has been in love ever since. Shortly after graduating from BGSU with a degree in High School English Education, he married his beautiful wife Gelly and the couple started a wonderful life of ministry, spending some time on Cru Staff, helping out with a church plant in Florida, interning at Westgate Chapel, and finally coming back to Brookside, with Ricky joining full-time staff in the fall of 2017. They have an absolutely adorable daughter and a (not-quite-but-almost-as-adorable) pup. Ricky enjoys any type of adventure under the sun, most of all pursuing his highest joy and satisfaction in God.
Director of Brookside Kids
Tyler has been part of the fabric of Brookside since he was a college student at BGSU, and his zest for life and passion for Jesus have impacted both the church and it's kids in huge ways. As a licensed teacher, Tyler brings an amazing combination of childlike faith and energy and incredible educational efficacy and professionalism into his role as Kids' Director. Tyler also loves board games, exercising, and hanging out with his beautiful wife Marion and their three children.
Accounting and Director of Prayer
Erin has been attending Brookside since 2008, and joined the staff as bookkeeper in January 2016. She holds a bachelor's degree in Accounting from BGSU, and works part-time as an operational accountant for Apio, Inc., a local manufacturer and distributor of fresh produce. Erin and her husband, Bo, were married in 2006 and have two children (Will and Sarah). They enjoy serving at Brookside in a variety of ways, but are most passionate about serving together to pray for Brookside, its people, and the surrounding community.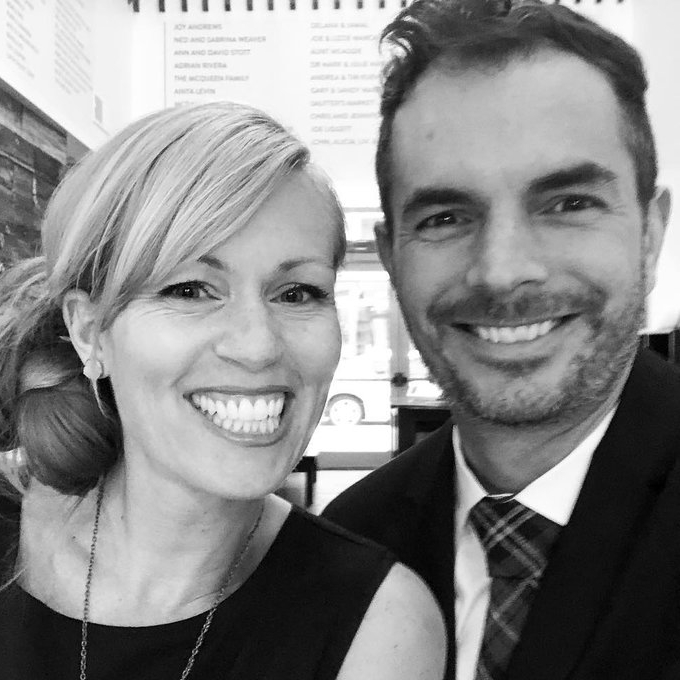 Worship Pastor/Elder
Rob has been leading worship for Brookside since the very beginning, when it was just a small group of people gathering in a basement. He is owner of Madhouse Creative and continues to pave new creative pathways in Northwest Ohio. Rob is married to his college sweetheart, Amy, and they have three children.
Area Director of Young Life
Dan has been on YL staff since 2008. He and his wife Tiffany have 3 beautiful children and we love the partnership that Brookside has with Young Life in the high school and middle school settings.

Team Leader of Cru at BGSU
Nick came to Bowling Green State University in 2000 and quickly got involved with Cru. After marrying the woman of his dreams, Ali, in 2004 they moved around before coming back to Bowling Green. Nick and Ali served a year in Germany as missionaries then joined staff with Cru full time. In 2007 they started going to Brookside and experienced immediately an authentic community that is passionate about Jesus. Nick is one of the leaders for Cru, the college ministry of Brookside. Nick cares deeply that students understand and can study God's word, know how God has made them, and have a genuine understanding of God's love for the nations. Nick and Ali have four children (Grant, Madison, Riley, Griffin). Email Nick at nicholas.gillispie@cru.org